Thursday, September 27, 2012
Art Fallout 2012 expands with the addition of a few more spaces celebrating and exhibiting contemporary art!
Saturday, September 15, 2012
Art Fallout: Drawn In

Girls' Club

117 NE 2 St.




Girls' Club presents a one-day, open call art exhibition of works on paper with a fun interactive element.

Art Fallout: Drawn In

invites all South Florida artists to submit work, details available at

www.girlsclubcollection.org/events

. A panel of prominent South Florida arts professionals will informally judge and the public is invited to give personal feedback to the artists via a system of color-coded handwritten messages. Join the exchange and leave your own note!

Free parking available at the City Hall Parking Garage across the street.



Appropriated Gender

1310 Gallery @ Sailboat Bend Artist Lofts

1310 SW 2nd Ct. (Middle St.)

1310 Gallery invites you to

Appropriated Gender

, a substantial group exhibition of 44 artists, both regional and national, that explore gender perception and self-identity. The exhibition reflects a wide range of aesthetic approaches, from witty, campy, or humorous to observational, intuitive, and personal in a smorgasbord of visual delights that will not disappoint. A group of prominent art professionals will serve as guest judges and select cash prizes.

Limited parking is available on the street and surrounding neighborhood. Please avoid parking in grass swales. Or take the shuttle bus!

SHARK Museum of Art | Fort Lauderdale, Nova Southeastern University

1 E. Las Olas Blvd.

The Museum of Art is inviting Art Fallout visitors free admission to

SHARK

. The exhibition includes sculptures, photographs and videos from 70 artists exploring all 400 species of the much-maligned ocean predator. A section also explores the impact of "Jaws," Steven Spielberg's 1975 thriller still terrorizing beach-goers today. Books & Books and Museum Café will be open, offering beer, wine and snacks.

Parking available at several garages nearby, additional metered parking is available on surrounding streets.

Open Galleries, Artist Studios and alternative exhibition spaces

FATVillage

NW 1 Avenue between 5 and 6 Street

World and Eye, Judith Schwab Art Studio, Project Fine Art, Francisco Sheuat and Julio Green Studio, Samsara Folk Art Gallery, Alfred Phillips Art Studio, Projects North, Projects South Exhibit, Puppet Network, Donna Haynes Art Studio, Bonney Goldstein Art Studio, Rolling Stock Gallery, Andrews Living Art Studio, C & I Studios, Iron Forge Press, Sixth Star Entertainment Studio

Parking available at lots and metered parking on street in various locations. Be sure to avoid tow away spaces in the area. Or take the shuttle bus!


GS TALKS: 01 Conversations on Community, Looking at Kennedy Glavovic Studio

724 NE 3 Ave

Glavovic Studio presents the first event of their GS TALKS Series. GS TALKS: 01 Conversations on Community will explore Glavovic Studio's upcoming project Kennedy Homes Affordable Housing. Through video, drawings, photos and an ongoing informal discussion, this event invites the community to engage in a dialogue on affordable housing, civic engagement, art and design. Also, visitors will get to preview some of the Artwork at Kennedy such as custom produced laminate by Artist Francie Bishop-Good, Photography by Ivory Mizell, Wall Hooks by Miami-based LMNOQ, Furniture by Mario Bellini, Philippe Starck, Piero Lissoni, Antonio Citterio, Vico Magistretti, among others, and a new Logo and Landscape Wayfinding by Glavovic Studio.

CHAIRs Tandem Gallery, co-curated by

Cadence

& Zahn development

435 N Andrews Ave., No 2.

CHAIRs - Co-curated by

Cadence

and Zahn Development, CHAIRs explores the art, design, fabrication and distribution of this primary element of every living environment - the chair. Tandem Gallery is featuring pieces that display the art & balance of function, design and production of the chair. A portion of any proceeds collected from art pieces sold will be directly funneled into the Flagler Village Community through various projects. The CHAIRs Exhibit is dedicated to further development of the proposed Flagler Village Community Garden. Side walk carts will be on site serving organic brazilian coffee, organic treats and raw, vegan and gluten free foods.


Metered Parking on Andrews & NW 5th Street, free parking on NW 1st Avenue (just west of the gallery), City Parking Garage 5min walk.

Picnic Blanket

a participatory public installation and intervention by Misael Soto

Huizenga Plaza at Las Olas Blvd and Andrews Avenue

5pm - Sunset

Miami-based artist Misael Soto will be laying out his 60 x 60-foot picnic blanket as part of Art Fallout 2012. Visitors and passersby are encouraged to enjoy the blanket as if it were their own. He will bring sunscreen, snacks, drinks, and games to share, visitors are encouraged to do the same. All are welcome to occupy and enjoy the blanket as Soto hopes to subvert the way park-goers claim their temporary real estate and define spatial and social boundaries. *Installation is weather dependent.

After Party @ 9pm


Green Room

109 SW 2nd Ave.

After party at Green Room with

Rock For AiFL

featuring artwork by Art Institute Fort Lauderdale students. Unwind and have a drink celebrating the growth of contemporary art in downtown Fort Lauderdale!

Parking available at several garages nearby, additional metered parking is available on surrounding streets.

Shuttle bus runs from 5-9:30pm.
Wednesday, September 12, 2012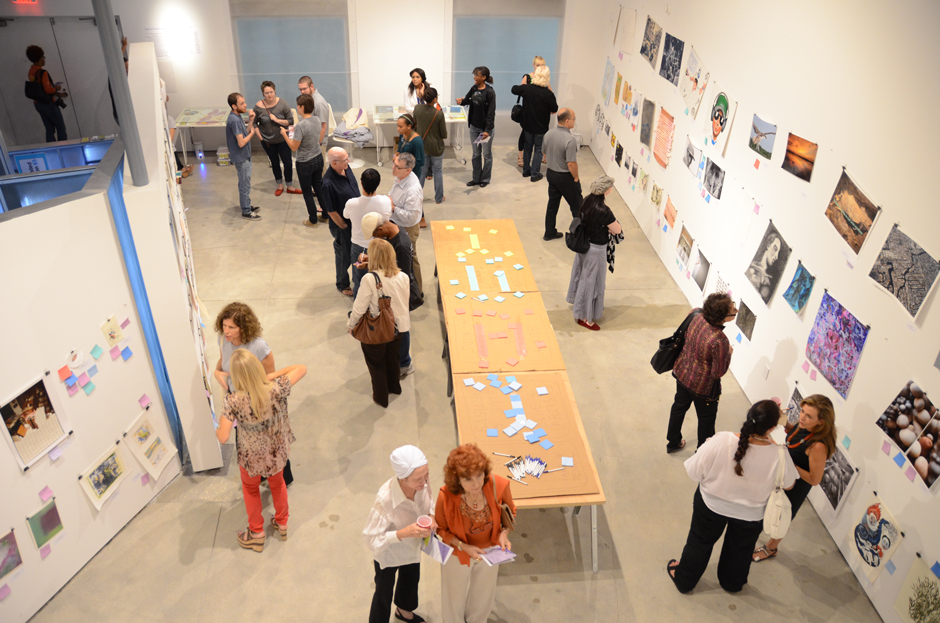 Art Fallout : Drawn In
Open Call for Work on Paper

Drop-off times: Wednesday - Friday, October 3-5
All South Florida artists are invited to submit works for Art Fallout: Drawn In, a one-day, open-call works on paper exhibition at Girls' Club, at 117 NE 2nd Street, October 6th, 2012, from 5pm to 8pm.Submit your drawings, drawn-on collage, photos, paintings, sketches, prints, poetry, architect drafts - any work on paper.
Submission fee is $10 per work, limit of two works per artist. All work must be on paper, NO FRAMES OR MATT BOARDS OF ANY KIND. Works must measure no more than 24 x 24 inches, 2D only please. Drop-off hours are Wednesday - Friday, Oct. 3-5, 1-5pm, call or
email
to make other arrangements.
A panel of prominent South Florida arts professionals, curators and gallery owners will informally judge and leave feedback. The public is also invited to give personal feedback via a system of color-coded handwritten messages.
A fun way to connect artists and art enthusiasts, inspiring individuals to start their own art collections and gaining exposure for new work!
SUBMISSION FORM AND DETAILS